About Us
Founded by Diana Yampolsky: World Renouned Non-Surgical Voice Repair Specialist - Master Voice/Vocal Coach - Vocal Technician - Safe & Professional Vocal Performance Consultant.
Based in Toronto Canada, Ms. Yampolsky's coaching concentrates not just on the voice, but on the performer as a whole. Her approach can boost stage confidence by improving the voice's range, pitch and power. She believes that a singer has 25% natural talent, while 75% of a singer's performance relies on technical training. Her special exercises enable the singer to meet any combinations of pitch and duration of sound. Ms. Yampolsky views the body as an instrument whose quality of well being determines the quality of sound produced and recognizes that the voice is a reflection of the 'inner self.' All courses are customized to the unique needs of each individual singer and program the brain using visualization and vocal repetition. The Vocal Science (TM) Method alleviates strain on vocal cords and develops proper use of facial and abdominal muscles while stressing posture.
About Diana Yampolsky
Diana Yampolsky is the one of the world's foremost specialists on the topic of the human voice and is the creator of Vocal Science, a unique and truly revolutionary accelerated vocal development technique that is trademarked with the government of Canada. It is a holistic and scientific approach to voice mechanics that enables all singers to reach their full potential in an extremely short period of time. Proven results are guaranteed in 10 hours for beginners and even less for semi-professionals and professionals.
Born in Russia, Diana Yampolsky has dedicated her life to music - its study, and application to performance. Her studies led to the completion of a Bachelor's degree in Music Education specializing in voice and piano at the Leningrad (St. Petersburg) School of Music and the Leningrad (St. Petersburg) Music Teachers' College in 1976. While in Russia she was a choir director, a public school music teacher, and a private vocal coach. During her tenure as choir director in Russia, her choir placed first in the Leningrad (St. Petersburg) music competitions.
Since 1980, Diana has been teaching in Toronto, specializing in voice. The Royans Professional Vocal School was opened in 1984 in order to teach her technique to the public. Today, Diana works with aspiring singers and established artists, as well as many fine producers, engineers and managers within the music industry. Through her Vocal Science Immersion Program, Diana regularly instructs clients from around the world.
Diana is also the world's foremost Non-Surgical Voice Repair Specialist. Through her revolutionary vocal technique, special exercises and natural herbal and homeopathic remedies, she can resolve most vocal problems naturally and prevent singers and speakers from having to resort to surgical procedures and pharmaceutical products that often produce unwanted side effects. As a true holistic practitioner, Diana works on the source of the vocal problem, rather than the symptoms.
Ms Yampolsky has been a featured speaker at a number of prominent international music conferences and seminars and has been a contributor to Canadian Musician magazine for over 18 years. She is also celebrated as an Expert Author on EzineArticles.Com and Hitquarters.com and has been highly profiled on various TV and radio stations over the years, as well as in print media, resulting in a number of write ups in respected publications. A complete list can be viewed at http://www.vocalscience.com/publications
Diana's long list of students (over 10,000) include achievers such as Lucas Rossi (Rockstar Supernova winner), Brian Melo (Canadian Idol 2007 winner), Raine Maida (Our Lady Peace), Alex Norman (illScarlett), and many more who have achieved international success after their instruction at The Royans Professional Vocal School.
If you would like to see Diana's certificates of education, accomplishments and the Vocal Science Trademark registration, please refer to Diana Yampolsky's Professional Credentials.
In 2000 Diana released her first book, Vocal Science - Flight to the Universe (published by Mayfair Music Publications).
Diana is also president of 4 a.m. Talent Development and Artist Management Group Inc. Both companies are designed to assist even the most inexperienced beginners make their way into the music industry, realizing their dreams of becoming top-notch professionals.
For more information, see www.vocalscience.com/4-am-talent.
For a video demonstration, see our youtube page:
http://m.youtube.com/#/user/vocalscience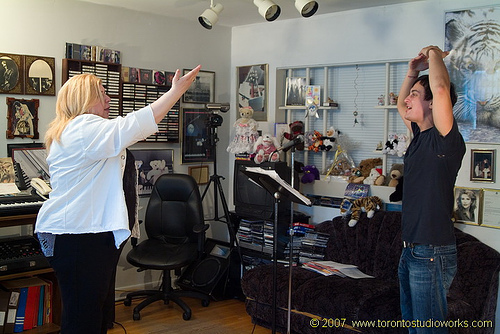 Diana working with Alex Norman of ILLScarlett (Sony-BMG Recording Artist)
Copyright (C) 2010 4 a.m. Talent Development & Artist Management Group Inc.